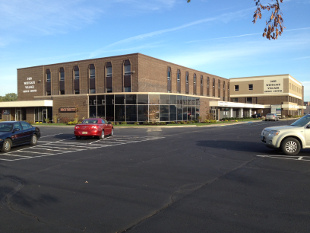 Come see the new look of the Westgate Village Office Center!  An exterior renovation was completed recently and includes a new facade, new landscaping and new signage.  All of the interior common spaces have also been renovated to compliment the new look.  Call us or stop by our on-site management office for more details!
The Westgate Village Office Center is the professional office choice in the Westgate area.  Located across from Costco and next to the former Sears store on Central Avenue just west of Secor and near Executive Parkway, Westgate Village Office is home to a variety of professional service providers such as legal, tax, insurance, title, real estate, marketing, recruitment and staffing, counseling and on-line learning to name a few.   Westgate Village Office Center is a natural choice for your office when you require a location that is easily accessible from both east and westbound I-475 and near downtown, hotels, the University of Toledo, shopping and popular restaurants.
With patrolled security, free parking, standard utilities, maintenance and janitorial all included in a customized leasing package that fits your needs, you'll want to visit the Westgate Village Office Center today.  The on-site leasing/management office is located in Suite 114 or call 419-531-7171 to schedule your personalized tour!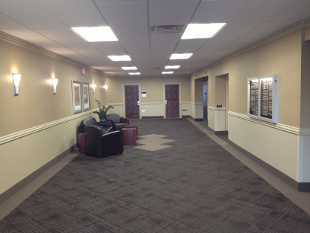 AVAILABLE OFFICE SPACE
---
1234 sq.ft., Suite 340
Third floor elevator lobby, open area reception/waiting area and two large offices
1547 sq.ft., Suite 100
First floor with exterior AND main lobby entrance.  Building signage available.  Open floor plan
2456 sq.ft., Suite 210
Open cubicle area, small private offices, conference room; available July 1, 2020
3267 sq.ft., Suite 360
Reception, waiting area, six offices, conference room and open area for eight cubicles
4064 sq.ft., Suite 130
Impressive exposure and visibility from W. Central Avenue with floor to ceiling glass, 8 offices, 2 large conference rooms, kitchenette and reception area
5075 sq.ft., Suite 310
3rd floor elevator lobby with skylight and flexible floor plan
LEASING CONTACT INFORMATION
Donna J. Stapleton, MIRM, MCSP, CMP
Westgate Village General Manager
3450 W. Central Avenue, Suite 114
Toledo, OH 43606
phone 419-531-7171
fax 419-536-7197
donna@abbell.com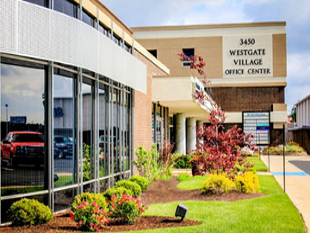 Westgate Village Office Center Amenities:
---
Our full service leasing terms include on-site maintenance and security staff, five (5) night janitorial service, free scheduled use of two conference rooms and standard utilities (heat, air, lights and outlets).  Both AT&T and Buckeye Cable/High Speed Internet/Fiber provide service to the building.
Our management offices are on-site, which allows us to be quick responders to your needs.   You'll find all the things required to conduct business quickly…  on-site banking, postal, UPS and Fed-Ex drop boxes.
You can choose from multiple sizes and space configurations ranging from the single office to approximately 5000 square feet.  Build-to-suit opportunities are also available to design exactly what your business needs.
Also, just a short walk away are popular restaurants such as Five Guys, Chipotle, Jamba Juice, Barry Bagels and Starbucks.  Piada's Italian Street Food, WingStop, Fuzzy Tacos, Yama Japan Sushi & Hibachi and Blaze Pizza are serving lunch and dinner in our North Center.  SportClips is NOW open specializing in great cuts for both men and women who love sports.
Within Westgate Village, you can get gas at Costco, shop Fresh Market and Rite Aid and be good to yourself by booking a massage, yoga or wellness classes.  Don't wait any longer, call us today at 419-531-7171!
Westgate Village Office Center
On-Site Leasing/Management Office
3450 W. Central Avenue, Suite 114
Toledo, OH 43606
phone 419-531-7171
fax 419-536-7197